Pokhara Enduro Race (#POE) involves a community of locals and overseas volunteers to initiate, build and maintain enduro mountain biking trails in the foothills of the beautiful Pokhara valley in Nepal. The first round of identifying and developing the routes began in January 2020 when more than ten trail builders and riders from Singapore, Malaysia, Australia, Canada, South Africa and Nepal banded together to create magic to discover golden trails in the dense forest of Arba hills.
After a three-year-long hiatus, to celebrate this community initiative, we plan to hold an International Enduro race attracting racers from more than ten countries to gather in Pokhara in November 2023. We designed a two-day activity involving a day of practice+prologue and a race day. Four timed sections, the specially curated trails include corresponding uphill liaison tracks that will test your mettle.
Fully-supported practice day will allow riders to gain confidence in unfamiliar terrain. The special sections(SS) and liaison sections(LS) encompass scenic and challenging routes of 3 to 4 hours of daily riding.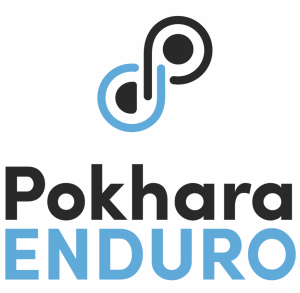 The race and final day will culminate in celebrating the joint efforts endorsed by the local communities and government officials.