Android L was launched by google on it's IO at 25th June 2014. Google has promised this to be one of the biggest Android Release. If you own a Nexus 5 or Nexus 7 (2013 edition), you can get the factory Image here, note it will delete all photoes, music and every contents from your phone so backup before installing. Before going on to the setup, let us see what Android L promises. It comes with a new "Material Design", giving the 3D effects and smooth animations at 60 fps. It also promises to be faster and with better battery life. Google has mostly focused on usability this time and there are some useful features like
Easy unlock when you are wearing a smart watch in your hand
Search within the Settings App To Find That Obscure Setting
Turn Off Notifications on a Per-App Basis All From One Place
3D multitasking with open chrome tabs (Recents)
Enhanced Notification
64 bit CPU support and default ART
PC like graphics on mobile
App patches from single Google Play Service
Better Notifications
Considering all those features, I was really excited to try out the app. I backed up my contents and downloaded the factory Image, then I followed the instruction at https://developers.google.com/android/nexus/images#instructions to install it. Everything was done and phone started booting up, the first boot took around 5-6 minutes. After boot I did the initial setup, and the home screen showed up. First thing I noticed was there was no Google Now and "Ok Google" feature was not working. I had found a way to fix that in kitkat, you can follow the instruction here. Then all my apps started downloading from playstore using my backup, and I started to look at the interface.
Each element now had that touch effect which was shown in Google IO. The interface looked clean, not the sexiest but animations were joy to watch. I swiped down to check the notifications, they were neatly dressed and grouped, I didn't find the quick tile switch button and settings button, after some playing around I found out you have to swipe your notification screen downwards to view quick tiles. I didn't like it, as it took me another step just to go to settings. The quick tiles now are more like toggle widgets, clicking on icon toggles the status of app, and clicking on text took you to it's setting. Next cames the Recents, I didn't like it the first time I saw it and after using it for a while I still don't like it. I want to be able to view more thumbnails like before, the current thumbnails are bigger and are stacked one after another, also the layout didn't seem that appealing to me and google why isn't there clear all button still? Google said they focused more on usability, but the current style of recents and quicktile thingy makes it seem untrue. Next came in LockScreen, it's the best part of this release, all my important notifications are now visible and managable on the lockscreen itself. Remember swipe right for camera? now you can swipe left for dialer, it really makes it really easy to make that phone call. The on/off button has changed, with something like switch button, the bottom navigation buttons are also not too appealing for me. Overall design wise, there has been some good changes, colors and animations are beautiful, yet still few things seems to be missing.
Going on to the performance, the Rom is smooth opening apps, switching apps or activities, the scrolls, they are really responsive. There was no messaging and no Gallery App, the messaging now defaults to hangout and Gallery defaults to Google+ photos app, which is disappointing cause they are forcing users to use something they don't like and I liked Gallery App, found Quic
kPic as an alternative for now. Moving on to the third party apps, that's when my disappointment started, I installed and opened firefox and it crashes, it is for me the best browser and I am still pissed off not being able to use it, hope firefox releases the fix soon. I don't really like chrome, and am still hunting a new browser to use. Next I opened up twitter (official client) and it too crashed, two of my most used apps aren't working, which can be really frustrating. I did install Tweedle after some research, still not satisfied. Other apps such as Viber, Whatsapp, TTPod, ES Explorer, Nepal Load Shedding APP, MSK Reader, KtmDrive App, DuckDuckGo and others apps seems to be working fine, so was firefox and twitter really that poorly built? Oh I forgot to mention yes FaceBook works fine too.
Overall, currently Android L is still in development phase and not all apps are ready for it now, so you cannot really judge the ROM for now. However after a day of use, the battery life was good, it automatically switched to battery saver mode when my battery was low. The performance was good, animations were exciting, only some apps have material design though.. however there are some really irritating aspects such as no gallery app and no messaging app. I was too pissed off to see firefox and twitter not working, as those are the apps I use the most. There are some bugs in the rom,
It gets really hot
While checking on Facebook Comments the comments didn't have white background but transparent background making it difficult to read comments.
Facebook Error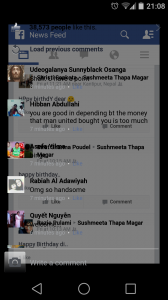 LockScreen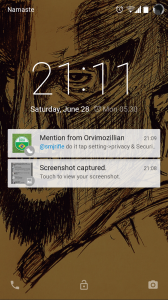 Dialer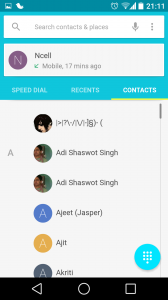 Recents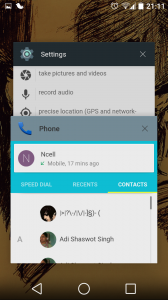 The thing you get when tapping Android Version (Easter Egg)