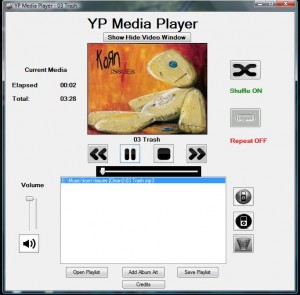 YP Media Player is audio and Video Player; currently in beta stage. It supports audio and video playback, saving playlist, shuffle, repeat and other functions that media player should have. It is also faster.
FEATURES
MSN Music Status Update
Album Art Display and insertion
Shuffle Playback
Video Playback
Save and Open Playlist
NOTE: The player is still in beta stage. Any suggestion and bug report will be appreciated. More features will be added continuously.
Download